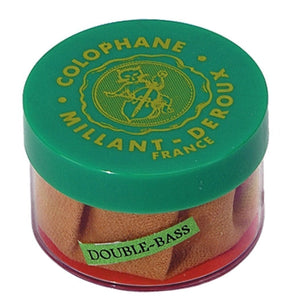 Millant Rosin
Since 1884
The originator of this famous rosin was the french violin maker, Sebastian-August Deroux. He was born in Mirecourt in 1848 and moved to Paris in 1884. At that time he started a rosin he called Colophane Deroux.
Mr. Deroux had only one child, a daughter named Blanche who married a Mr. Leon Millant (not a violin maker). Their sons, Roger and Max became violin makers and took over the rosin manufacturing when their grandfather, S.A. Deroux died in 1919.
In 1925, Roger and Max improved the quality of the rosin in order to increase the adhesion of the bow to the strings and at the same time, reduce the rosin dust. At that time, they added their name, to that of Mr. Deroux so from that time to the present, it has been known as Colophane Millant-Deroux. In addition, they created the logo of the cat playing the cello which they placed on the center of the cover.
During the 1950's, American and Japanese customers began to call this rosin Cat Brand and this nickname is still alive.
Mr. Bernard Millant succeeded his father Max, and his uncle Roger and produced this famous rosin until December of 1975. The acclaimed violinst Mr. Snorri Thorvaldsson assumed production and since that time has developed additional rosins while keeping the spirit of the original formula. Five years ago, his son Alexandre Thorvaldsson assumed control of the firm. He is committed to producing the finest rosin available. All of the rosin is still produced in a centuries-old farmhouse located in a little village 30 miles east of Lyon.