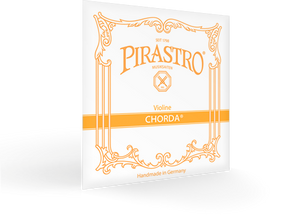 Chorda Violin Strings
Features

Chorda E-, A-, and D-strings are plain gut strings, the G-string is wound.
authentic string for baroque instruments
very low string tension, comfortable left hand feeling

designed for 440 Hz tuning
For 415 Hz tuning, please use inchesstrong inches gauge.
Altering the gauge by 1/4 PM changes the tension by 3%.
Set

Variations

The medium set contains the following strings:
E-plain gut 11 1/2
A-plain gut 14 1/2
D-plain gut 19 1/2
G-silver-plated copper wire unpolished 16

G-plain copper: available in three gauges in steps of
1/2 PM and it has a darker sound than the standard G-string.
G-Chordaflex 29 PM: plain and twisted gut string.
Gauges

Tailpiece Options

Chorda strings are manufactured in three gauges in steps of 1/4 PM.

Chorda E-, A- and D-strings without knot
G-strings with knot
| | |
| --- | --- |
| Packaging | Sizes |
| | Chorda strings are available in 4/4. |